 Cathy S.
I have gone to a few different places for massages and the last two were terrible. I went to Jen off a recommendation from a friend and I was not disappointed. She listened to what I had to say and found all my trouble spots. I'm training for a half marathon and my IT bands have been killing me, I ran 7 miles Saturday with no IT band problems. Maren F.
I was in a car accident nearly a year and a half ago and have had trouble and pain turning my head left ever since. After one massage, Jen made it possible for me to turn my head without pain. It's been a week and I am still amazed. I am going to go back to make sure that the knots don't come back, but WOW. I went to work the next day and showed everyone my new talent of turning my neck left. They thought I was weird. I was just excited. And she's so affordable and pleasant! 🙂 Jennifer Q.
Great work on the long-time knots, good follow up consultation after the massage to help me know what I can do on my own to help, and great balance between talking and just working on the body during the massage. I will be back! Sharon C.
I suffer from migraines and haven't been sleeping well lately, I love how flexible Jenn's schedule is to fit my busy life. I got in to her last appt. of the night and went home so relaxed that I was able to get a good nights rest with no migraine! She is able to find knots that you aren't even aware of and my neck and shoulders, what can I say, they feel FABULOUS this morning! Lynnette K.
I was very impressed. I have paid for deep tissue massages in the past, only to walk out disappointed that the massage therapist could not get out my knots, mostly because I feel they lacked the strength to put enough pressure, or else lack the experience of knowing how to leverage strength. Any how, I was pleasantly surprised at how strong Jen's hands are and she is very experienced. I will go again and again. She also knows how to apply enormous pressure without causing me to react to the pain. Her style is different than what I have experienced in the past, but I believe whole heartedly that it works. Her pricing is very affordable, and the results are fantastic. Hands down the best value as well. Nikki M.
Jenn's massage was wonderful! She found knots that I didn't even know were there - in addition to the ones I told her about! I felt so great afterward! Brittany G.
Jen is one of the best massage therapists around! She is very experienced and always finds my trouble areas without me telling her where they are. She has strong hands and knows exactly what she is doing. In addition to that she is trained in multiple natural healing methods. She is very knowledgeable. You can't beat the service you receive for such an amazing price! Excellent work! Reed L.
I grabbed one of Jen's evening appointments, which was great for my busy schedule. I really enjoyed her relaxing massage - the stress and worries of the day seemed to melt away. Just what I needed! Thanks Jen!
Massage Therapy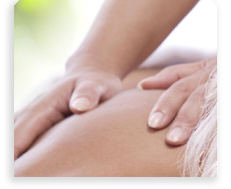 Deep Tissue, AromaTouch, Trigger Point and Energy work.